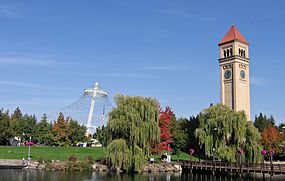 Help Desk N.W.'s primary goal is to provide our clients with unsurpassed IT support in Spokane, building and maintaining a true partnership with small and large businesses alike. In today's world, every Spokane company needs some type of IT support, and whether you have five employees or fifty, we provide everything you need all in one place.
For business owners, the idea of outsourcing IT support can be a bit overwhelming; however, it is one of the single best decisions that you can make to minimize costs while increasing productivity. Our IT support staff in Spokane is singularly focused on meeting all of your IT and technology needs, from setting up and maintaining your VoIP to complete management of your hardware, software, network, and servers, and anything else that your Spokane company may need. By choosing Help Desk N.W. you obtain access to the best minds in the business for significantly less than you would spend on setting up and running your own internal IT department.
In fact, our years of experience and our thorough and varied range of services are all provided for some of the best prices of any IT support provider in Spokane. We created detailed, customized service packages for each of our clients in order to meet each company's specific needs, all for one reasonable monthly rate. No surprise bills and always the best service, if you're looking for trustworthy, reliable, and cost effective IT support in Spokane, contact us today.